A huge congratulations to the North Sea Region project 2imprezs! This week, the project delivered an amazing performance at the Interreg Project Slam.
They were chosen out of nearly 40 submissions received from across the whole Interreg community and then competed against eight other finalists to win at the Slam – an event organised as part of European Week of Regions and Cities in Brussels.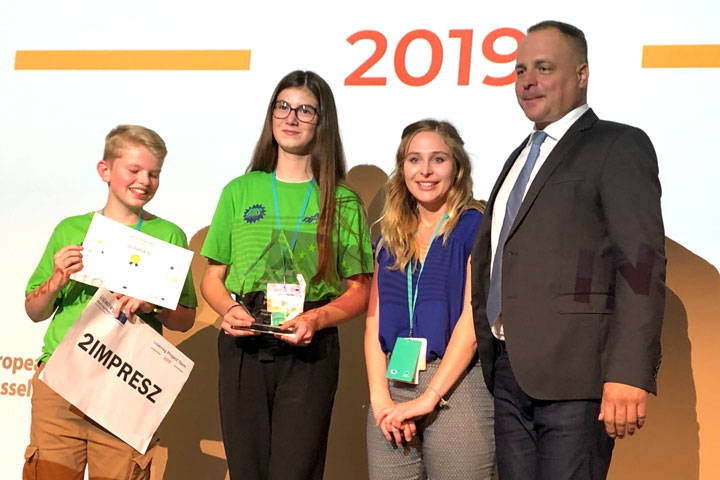 A very proud North Sea Region Programme team watched from the sidelines as Madeline Langlois from the 2imprezs partner European Institute for Innovation (EIfI) presented the project and two star pupils and 'amigos' Charlotte Macken and Ward Moeyersons from local 2imprezs pilot school, Sint-Jan Berchmans Secondary School in Puurs, Belgium explained how they improve energy efficiency in their school.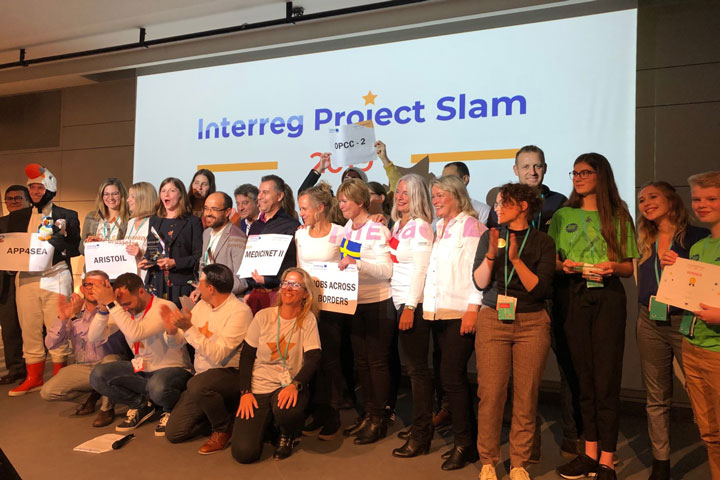 Langlois explained that pupils have a strategic and valuable role in the project. 'They are considered "agents of change" and are involved in the core project activities, including carrying out energy audits for their schools, assessing the schools' current energy set-up and designing a plan for improvements and energy savings.
The students Charlotte and Ward said their school was no ordinary school. They have developed an ingenious approach to engaging students in energy savings. Every year the students hold elections in order to form a new student government. A subcommittee of this student government is called the 'Amigos' and these are the students that want to make their school 'greener'.
The pupils have introduced a number of great initiatives and practices including providing reusable drinking bottles, encouraging fellow students to travel by bike and greening the school yard.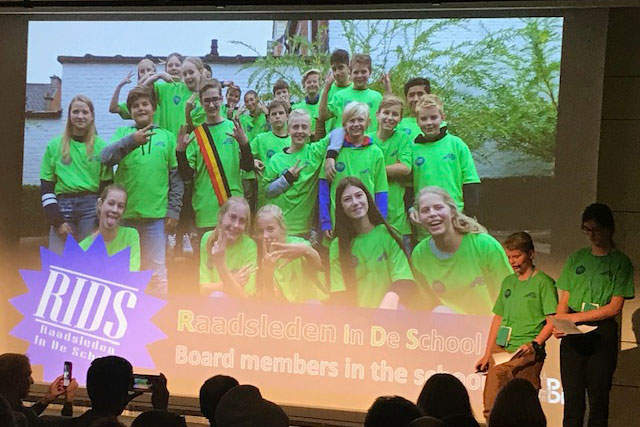 As part of the performance, Charlotte and Wade explained that together with other pupils they had taken several steps to help make energy savings in their school:
• They confront local politicians and decision makers with questions about future expected environmental measures and actions and have produced a short video showing what actions they are undertaking in their school to reduce energy consumption and asking the politicians what actions they are taking.

• They take steps to reduce the energy consumption at their school by 15 %. A video was also produced for this purpose featuring a polar bear and outlining a series of simple measures pupils should follow take in order to save energy consumption.
So what's next for Charlotte and Wade? Even more energised after winning the Project Slam, they intend to keep up the good work and inspire other schools to follow in their footsteps – showing them how fun and easy it is to save energy in their schools.
Talking to Langlois after the award ceremony, she said that spreading the results and influencing other schools is an important element of the project. It has developed regional networks in order to share its work on, for example, energy monitoring, with other schools not engaged in the project. Teachers and umbrella organisations outside of the project are invited to join the network to learn about the initiatives undertaken and the approach of using children as 'agents of change'. She hopes they will be inspired to promote similar initiatives in their own schools.
Charlotte De Koninck is a Project Manager from the organisation IGEMO, a regional intermunicipal organisation which aims to develop the scope of its surrounding Belgian municipalities in a sustainable manner. She said, "we are so pleased that we have young people like Ward and Charlotte all over our region, who are engaged in the process and are truly striving for a better world."
The 2imprezs project is enlisting the support of school children to reduce carbon emissions in their schools. It helps 141 schools across the North Sea Region reach 30% energy savings representing an emissions reduction of 7,320 tons of CO2 and transforming at least 4 schools into nearly zero-energy buildings. Approximately 20,160 pupils participated in the project's Energy Challenges campaign during 2018!

Are you keen to learn more about the project? Check out their website!