In collaboration with 11 other Interreg programmes, the North Sea Region Programme created visibility for transnational cooperation over four days at the EU Week of Regions and Cities.
From 8 to 11 October, over 6,700 participants, including policymakers, EU programme and agency staff, and many other stakeholders of European regional development gathered in Brussels for the EU Week of Regions and Cities.  The North Sea Region Programme took part in this key annual event celebrating EU Cohesion Policy.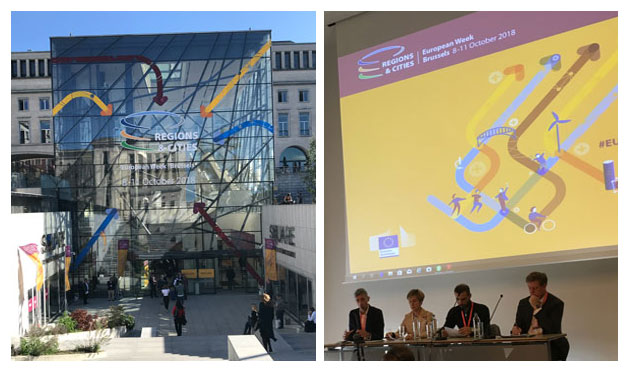 The negotiations shaping the post-2020 Cohesion Policy budget are now taking place. It is more important than ever that key stakeholders understand what transnational Interreg programmes are doing and the significant difference they are making to European regions, cities, and citizens. Therefore, 12 Europe-based Interreg transnational programmes seized the opportunity to jointly present our work and to discuss the future of European transnational cooperation.
#MadeWithInterreg: Visualising transnational projects
What is Interreg transnational cooperation and why does it matter? The 12 programmes set out to answer those questions.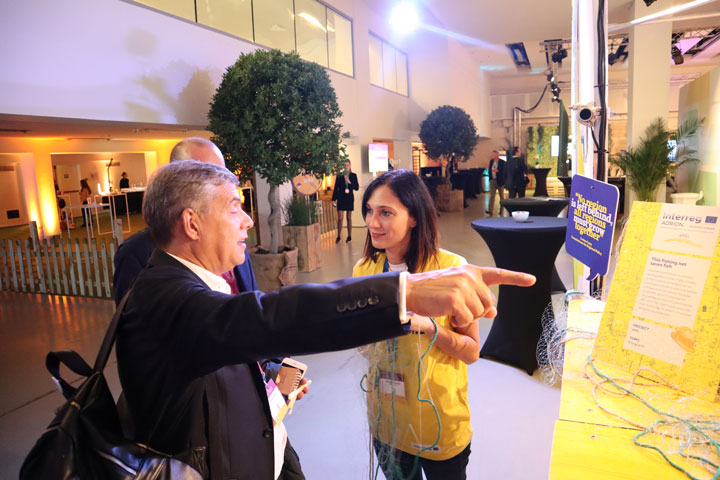 The exhibition #MadeWithInterreg made a point of educating visitors about Interreg strand B – better known as the transnational programmes. 'Oh, I didn't know that!' was an expression often heard as visitors took a quiz gauging their knowledge about Interreg.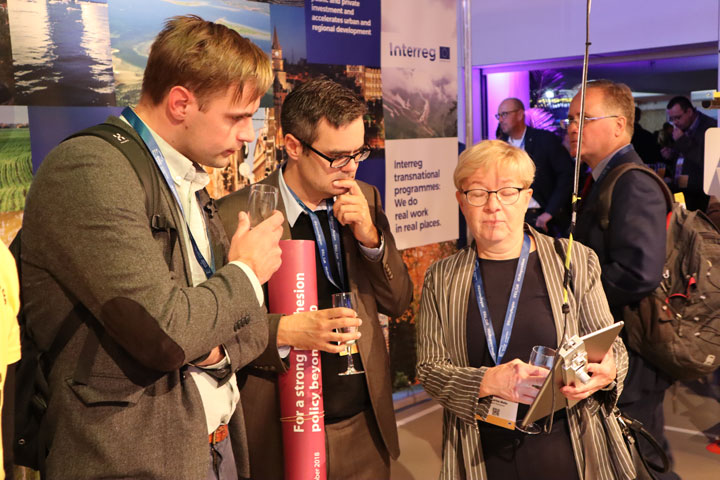 The transnational programmes showcased more than 30 projects from all parts of Europe, via videos and visuals as well as through the participation of representatives of almost 20 projects.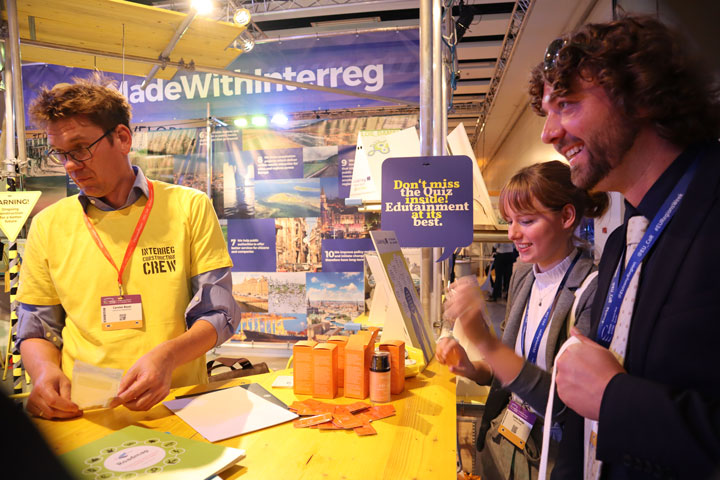 Objects symbolising 12 projects were also on display at the stand. Ranging from a transparent box containing marine litter to a model of a solar-powered car produced by school children, the objects drew people's interest and elicited questions from visitors.
> See the #MadeWithInterreg collection of 24 featured projects
Featuring North Sea Region projects
Amongst the projects featured at the #MadeWithInterreg exhibition were the North Sea Region funded Building with Nature and SHARE-North. Building with Nature demonstrates the feasibility of concepts for building climate resilience whilst SHARE-North promotes carsharing schemes to reduce congestion, carbon emissions, and urban air pollution.
The projects were also presented live by project beneficiaries during the week.  In the session 'seven Interreg highlights', under the common theme of climate resilience, Stevie Swenne of Flanders Environment Agency (VMM) presented the four North Sea Region projects in which VMM is involved – Building with Nature, CATCH, TOPSOIL, and Sullied Sediments.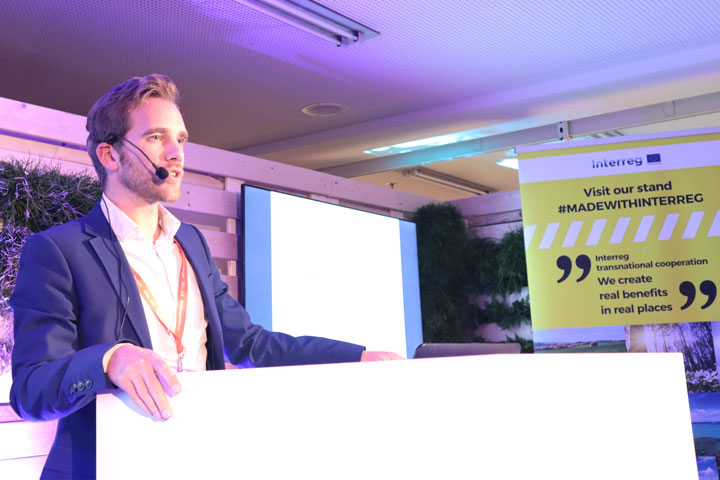 Michael Glotz-Richter of the SHARE-North project joined us at the stand on Wednesday morning, using a small shopping trolley to promote the idea of carsharing. Michael asked intrigued passers-by to consider what would happen if everyone wanted to own a shopping trolley. The analogy to private car ownership proved a compelling entry to interesting discussions about the benefits of carsharing.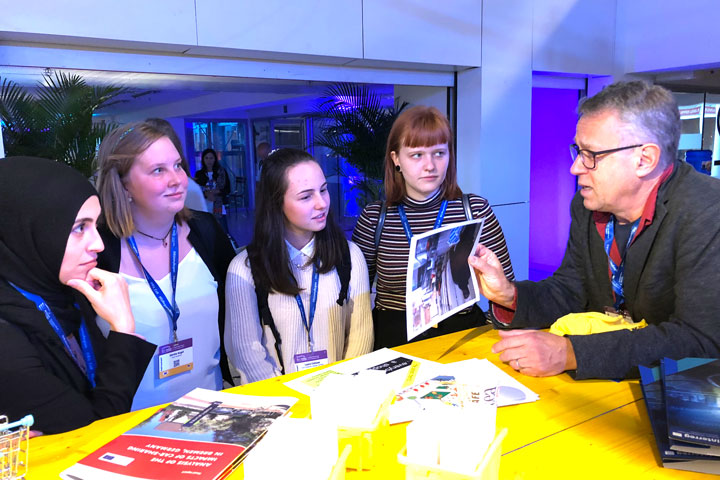 The future of transnational cooperation: developing joint ideas and stances
The 12 programmes also supported and promoted a well-attended Idea Lab discussing the draft regulatory framework  2021-2027.
In an energetic keynote speech, Thomas Wobben, Director for legislative work at the European Committee of the Regions, highlighted the assets of transnational cooperation and urged the programmes to keep working together to promote the best functional framework  in the coming period.
Delegates focused on several key points of the draft regulatory framework, including policy objectives, macro-regional strategies, and functional areas.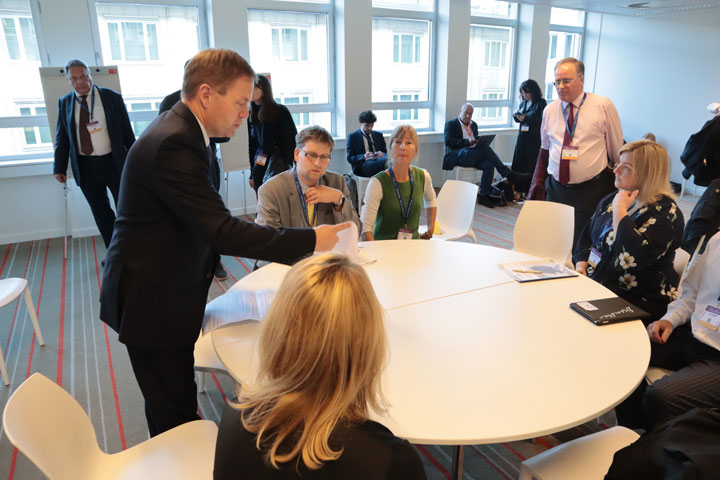 Amongst other conclusions, the audience agreed on some key overarching points:
The proposed policy objectives were found to be relevant and sufficiently broad to cover all the issues of importance in the regions.
Delegates agreed that each programme should be selective and focus on a smaller range of topics reflecting the specific needs of their region, as opposed to a 'one-size-fits-all' model.
There was also consensus in the room about the need for added flexibility enabling the programmes to change their scope during the seven-year programming period, if necessary. With the recent refugee crisis in mind, we know that priorities can shift almost overnight. Without flexibility, programmes lose the opportunity to respond rapidly to new European dynamics and contribute effectively to their resolution.
Six Interreg projects and one slam
On Wednesday afternoon, Interact hosted a fresh approach to Interreg project promotion. Six projects presented themselves in  entertaining ways, performing skits, showing videos, or both.
At the end of the session, audience members voted for their favourite performance. Whilst the first place was handed to Interreg Europe's project RaiSe, the two runners-up were transnational Interreg projects: Interreg Mediterranean's Bluemed (second place) and Interreg SUDOE's project ClimACT (third place).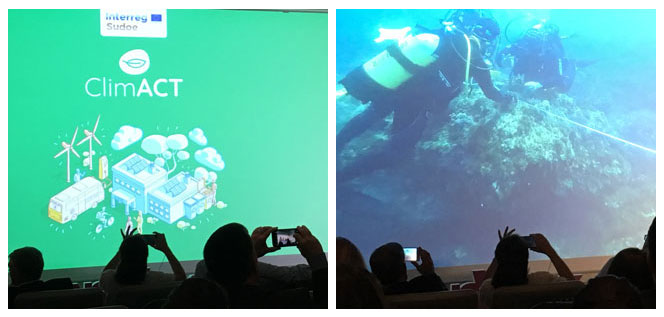 Bluemed also received the social media award based on a staggering 15,000 likes during the social media contest in September.
A truly transnational experience
For us in the North Sea Region Programme, the biggest takeaway of the EU Week of Regions and Cities was the amazing first-hand experience of cooperation with similar programmes covering other parts of Europe.  As so many of our projects have reported, working together beyond borders really is the heart and crux of transnational cooperation, stimulating results that are better and stronger than what each partner could achieve individually.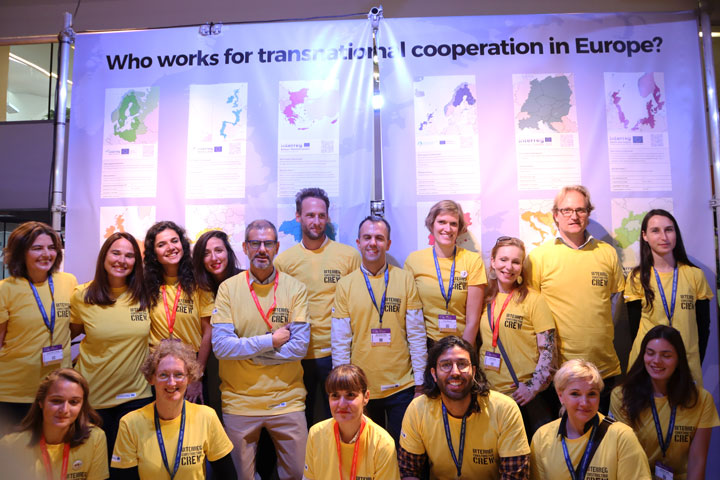 At the closing ceremony, ending a full week of interaction between thousands of visitors, former US ambassador Anthony Gardner said, 'EU citizens want more Europe, but they want a Europe that works.' This is exactly what Interreg transnational cooperation is about: creating a Europe that works for its regions, cities, and citizens.
The joint Interreg programme ventures at the EU Week of Regions and Cities demonstrated this point.  The North Sea Region Programme and the other transnational programmes are now looking ahead to support a future Europe that works even better.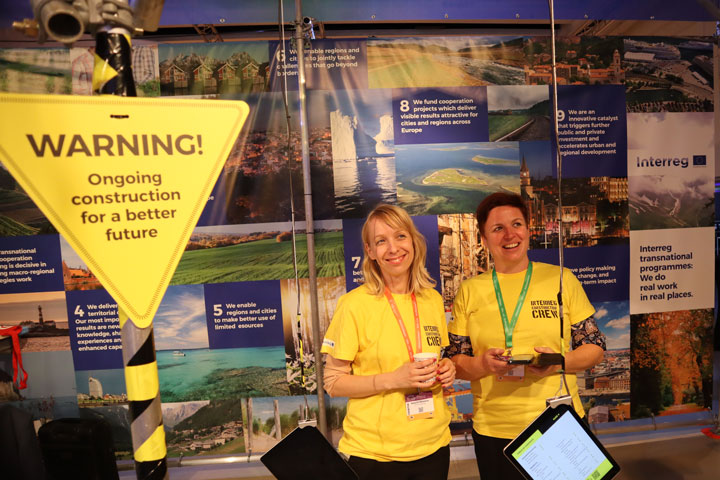 TAKE THE INTERREG QUIZ
Even if you missed the event, you still have the chance to find out if you are an Interreg transnational superstar, expert, or beginner! > Take the quiz