After two years of successfully helping start-ups test their innovations at European festivals, 2020 was not the best year for the Inno-Quarter project.
The big problem was that the Covid-19 pandemic shut down this year's festivals. But rather than waiting for the virus to disappear, we decided to look for new opportunities to help start-ups at a time when they need it the most.
Inno-Quarter aims to speed up the start-up ecosystem in the North Sea Region. Why? Because 9 out of 10 innovations fail due to insufficient testing. To fast-track the innovation process and prevent failures, we set out to help start-ups test their innovations at European festivals.
A festival is comparable to a small society where people need to eat, drink and sleep. And because festival areas are mostly closed areas, it is easy to measure a lot of things. This data can be used to improve the innovations and to make the launch to the market easier.
High expectations
The first two years seemed to prove the concept. This year, our project was even nominated for the Interreg Project Slam 2020, based on our initial success.
In February 2020, all the partners got together for the pre-festival meeting. This year was going to be "the" year for Inno-Quarter. We had planned seven festivals this season, which meant a lot of new data for our end results – and once again, the opportunity for start-ups to amaze the world.
However, one month later, the coronavirus had arrived, thwarting all our plans.
Adapt and overcome
Because the pandemic seriously affected our project, our motivation to look for new opportunities to help start-ups was very strong. So instead of waiting for things to get back to normal, we worked hard to find new ways to continue helping start-ups – and found some avenues that can even be interesting for the next festival season.
We collaborated with Innofest at the Dutch Oerol festival this summer. Innofest is a project in the Netherlands that tests start-ups in living labs. Innofest was working with this festival but because the physical festival was cancelled this year, we worked together to invent an alternative.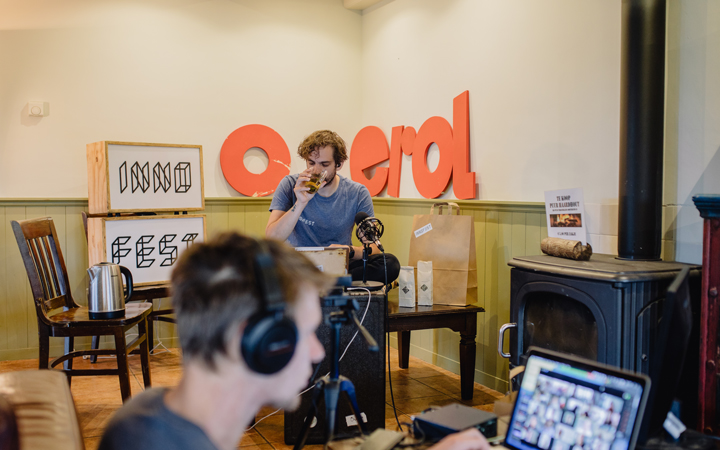 Because of corona, the Oerol festival went fully online this year and the digital edition offered new opportunities.
"The more entrepreneurs we could still help this past summer, the better," says Linda Vermaat, Director of Innofest. "After all, testing is crucial for entrepreneurs to be able to improve their prototypes and to prepare for a successful market launch. Just like Innofest and Inno-Quarter, Oerol has been working for some time already on the question of how to make the food chain more sustainable. By focusing primarily on food innovations during this edition, we gave the public the opportunity to contribute to this from their own home."
Via the Oerol webshop, people could order a test box containing six food innovations, and thus join the test panel. During a daily live show "Innofest Test Teevee", the focus was on a single start-up and the home test panelists logged in to test the products together.
From breakfast cereals and salvaged food to plates and cutlery made from banana leaves: During this online show, the Oerol test panel helped the entrepreneurs involved by providing feedback on – for example – the taste and packaging of the products.
Ilai, supported by Inno-Quarter, provided the home testers with plates and cutlery made from fallen and harvested banana leaves. These products are completely biodegradable and a sustainable alternative to throw-away plastic.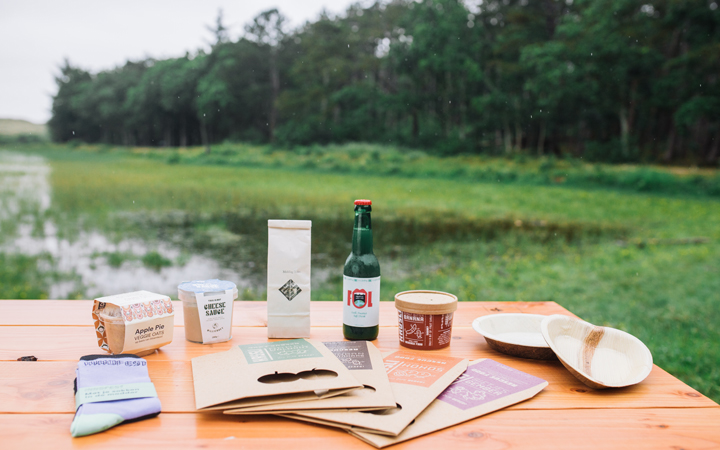 The benefits of going small
The Swedish Covid-19 restrictions limited the number of participants per event to a maximum of 50 people during the summer of 2020. However, a challenging situation can be a problem or an opportunity – it's often a matter of perspective.
The festivals Inno-Quarter works with – Hallifornia and Into the Woods – chose to adjust the number of participants, extend the duration of the festivals, increase the number of activities, and re-schedule festivalgoers to join the festivals at different times.
Their experience was that the need to adapt to a challenging situation stimulated creative efforts to explore new possibilities. Because there are also many advantages to scaling down. Small is beautiful!
New festival: Into the Woods
Co-creation is a fundamental part of the philosophy behind the Swedish festival Into the Woods. Participation leads to a feeling of community and a shared responsibility. Being close to nature helps participants experience ways to interact with others in more constructive ways.
Inno-Quarter's initiative at this festival, Wood Wide Web, takes sustainability one step further by applying a regenerative innovation philosophy. For example, it may be sustainable to plant one tree for every one you cut down. But it is regenerative to let the forest reproduce itself in a natural way, for instance through selective logging leaving many trees to absorb carbon dioxide, protect the soil, and set seeds.
One of the regenerative ideas tested by Inno-Quarter start-ups was an innovative composting toilet that removes smell and recycles human waste in record time through the use of special microbes.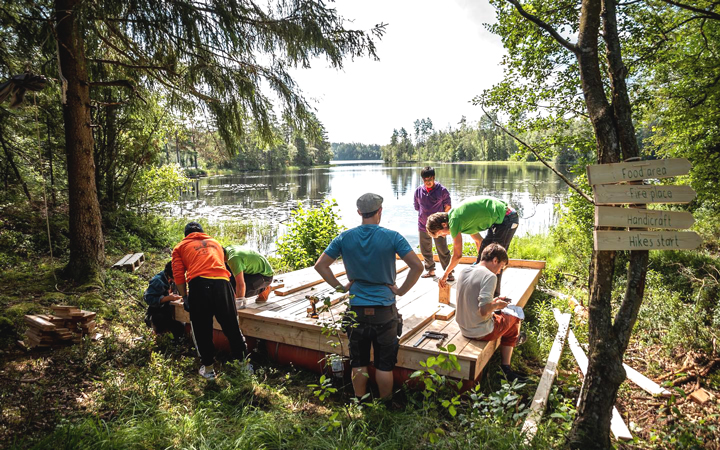 Positive outlook for next year
After a season of exploring new opportunities, at Inno-Quarter we think we have a solid base to handle another pandemic year.
"We are looking for alternative solutions such as online testing or testing on a smaller scale," says Wood Wide Web organiser Erik Ruth. "We are also looking at alternative living labs such as zoos, campsites, and schools. These test sites will give comparable results to help the start-ups and this is a time where they can really use some help!"
Start-ups who find it interesting to test their innovation in a living lab can now apply via the Inno-Quarter website. We are looking for the right place to launch these innovations to the market. Whether there are festivals or not, we offer the right environment to help your startup!
Explore the project and start-ups
Inno-Quarter helps start-ups test their innovative products and services, which can make the difference between failure and success. To be eligible for support, the innovations must support at least one of the United Nations Sustainable Development Goals. Turns out there are plenty of start-ups with matching ideas, from a chewing gum challenge to sustainable bikinis. Or what about an electric racing car?
See all the cool innovations promoted by Inno-Quarter

About the author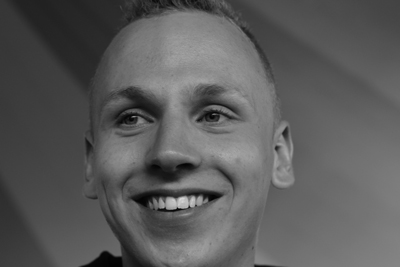 Dennis Sieperda is leader and communication officer of the Inno-Quarter project. He works at the Dutch Province of Fryslân.

His future plans: Starting an alpaca farm in the mountains!