Early February, North Sea region projects came together to share experiences during the Covid-19 pandemic. The Joint Secretariat hosted four sessions where 20 project experts shared challenges and presented solutions on how to set up pilots, engage stakeholders, communicate to a broader audience, and keep a project team together during the pandemic. We hope their tips and tricks will inspire and help others.
Adapting pilots
Testing new solutions, lab work, pilot walks and trying successes in new regions; it all became challenging in 2020. We start to see a possible end to the restrictions later in 2021 but until that time, projects are adapting to the new normal.
COM³ : Improving the tech-readiness of rural businesses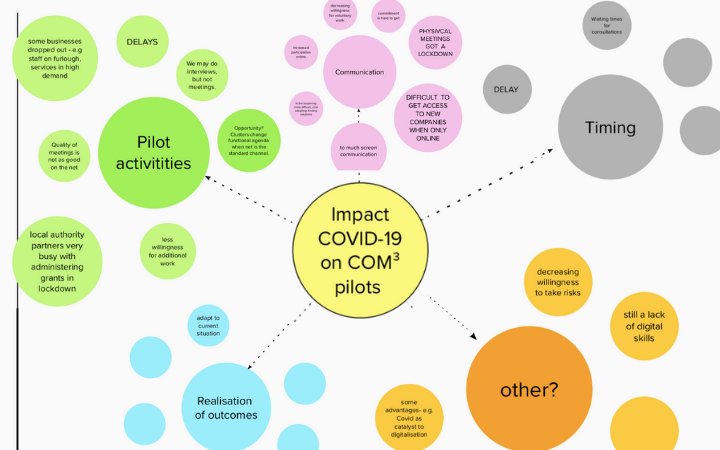 Whilst we planned the roundtables, the COM³ project already gathered its team to discuss how the Covid-19 crisis affected its pilots. Bieke Blauwblomme shared how the team used MURAL boards to visualise the concerns and opportunities of their project. By voting on the most pressing issues, they created a starting point to adapt the pilots.
We saw this workshop as a good opportunity to not ignore the effect of covid-19 on the pilot activities, but to also pay attention to smart and creative approaches that can inspire and motivate other partners.

Bieke Blauwblomme, COM³
G-PaTRA: Green Passenger Transport in Rural Areas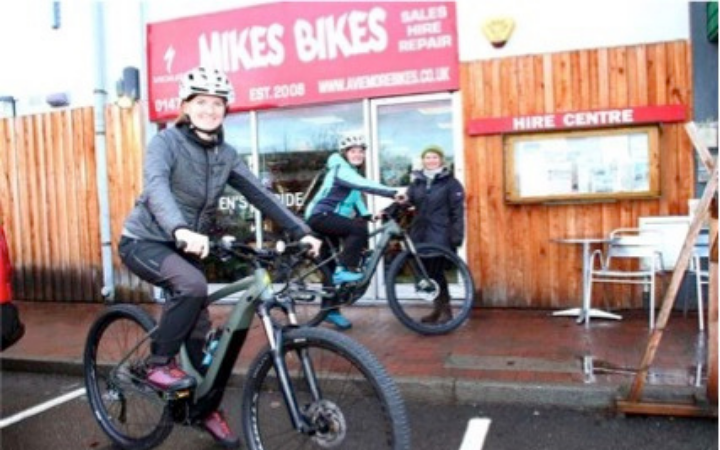 A pilot to introduce e-bike rental for tourists and for 'last mile' commuters was doomed to fail due to a lack of tourists and commuters. However, the team of G-PaTRA got creative and changed the pilot to serve key workers in rural areas, to great success. Hospital staff, shop workers and employees of the nature reserves could use the bikes in a long-term rental scheme with added health and environmental benefits.
Engaging stakeholders
When meeting is restricted, keeping the stakeholders of a project, active and engaged is challenging. The projects showed that it is still possible to keep stakeholders involved and expand networks with and without meeting in person.
ShareNorth: Shared Mobility Solutions for a Liveable and Low-Carbon North Sea Region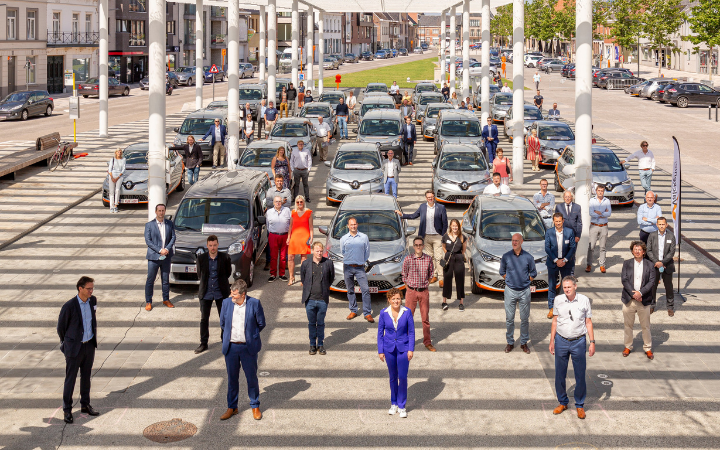 The team of SHARE-North managed to set up a Covid-19 restrictions approved event in Flanders that gained great media traction. With the luck of a sunny day, the project launched car sharing at a large parking space, surrounded by the cars and the people involved, whilst keeping 1,5 meter apart.
To continue with a great Covid-proof promotion, set-up by the ShareNorth team, Jeffrey Matthijs shared their #Veroverderuimte (conquer the space) campaign. By encouraging citizens to share videos of what they would do with extra space in the city, they promoted liveable cities and their car sharing initiative.
SURFLOGH – Smart Urban Freight Logistics Hubs
The daring team of SURFLOGH organised a hybrid event so that the City of Mechelen could sign a zero emissions convenant with their logistics stakeholders whilst another 170 people joined online. With a small professional team to support the live-streaming, SURFLOGH pulled it off.
Tips from the SURFLOGH team for a hybrid event:
Immerse – Implementing Measures for Sustainable Estuaries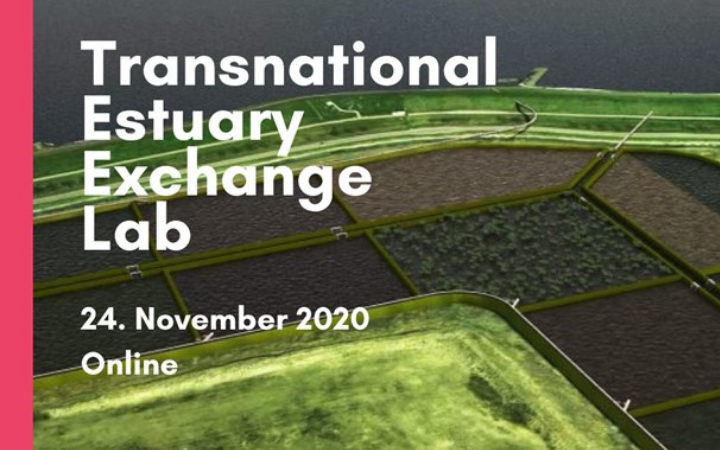 A lot of practice and preparation went into transferring an originally planned live event to an online event. After testing several tools immerse selected GoToWebinar, Mentimeter and JotForm. (More information about tools can be found at the bottom of this article.) Each session had two practice rounds before the actual event and the team of Immerse stressed that this was key to success. This niche subject attracted more than double the participants by moving online.
Reaching a wider audience online
A lot of communication, to promote project outcomes to a wider audience, already took place online before the pandamic. We heard different experiences from the projects during the roundtable on communication. Projects that found their audience grow and become more active online. And projects that aim to reach groups that are excluded from the digital world and struggle to substitute their activities with online alternatives.
Two projects presented their Covid-proof communication campaigns, and gave great insight in the process and learnings.
Prowad Link – Linking sustainable growth with nature protection
Prowad Link gave the floor to SMEs in the tourist sector, hard hit by the crisis. Without a film crew on location, Prowad Link managed to develop an interesting video serie. The SMEs were asked to shoot the film themselves but send the footage to the project for post-production. The quality varies, but that is okay. Even though the companies face similar restrictions, they all have a unique way of changing and working around it.
Can you see the difference between the video series below and the video about the Westerås farm above? Prowad Link's communication strategy evolved and the video's are now less focused on the current situation. By changing the script, and make the video's less about Covid-19 the Westerås farm video is still relevant post-pandamic and have a longer life.
#IWTS2.0 – Inland Waterway Transport
A ship launch without the ceremony, without the champagne, is not a real launch. The #IWTS2.0 team pulled off an impressive live streaming of the emission free Green Wave barge. With restrictions in place they managed a real celebration of the launch that was both interesting and engaging. The host did a fantastic job in linking presentations from the companies involved, a Q&A, a walk to the barge, an interview with two teenagers who launch the ship and a video message from the Dutch minister of Infrastructure and water management, smoothly together. And, as we heard during the roundtable, all with a very manageable budget.
Keeping the project team motivated
Some North Sea project teams haven't even met in person. We got together in the Covid & Project Team roundtable to discuss how to keep the project team motivated when you cannot meet. We are impressed with the teamwork achieved. But it is not always easy. Projects shared their tips to encourage teamwork online.
EXSKALLLERATE – Accelerate adoption of exoskeletons for construction and manufacturing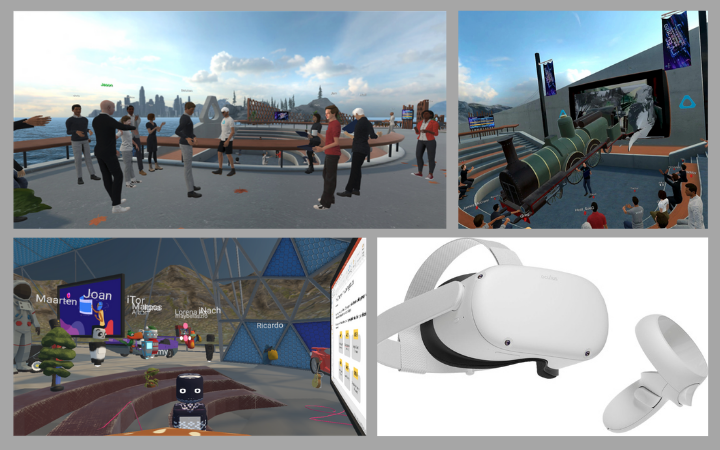 As we all face Zoomfatigue after a year of living with restrictions, it can help to try out a more engaging platform. Participants of the Covid-19 & Project team roundtable were introduced to Virtual Reality tools that can help spice up online events and actually simulate the much-missed networking. We learned that, even without a head set, you could experience post-conference drinks. When you move closer to people in a virtual world you can hear the sound increase so you can initiate a one-to-one or small-group conversation. A step further would be to invest in a VR- headset; they are a lot less expensive and cumbersome than some of you might remember.
As you meet with your project team often, it might be a good idea to encourage the social element that you miss when you can't catch up at the coffee machine. Some projects already took this on board and made the following suggestions.
Tips for tools
The project teams mastered an impressive list of new skills during the pandemic to make working together online a bit easier. Have you tried these online tools?
Silver lining
Projects that reached a broader audience when moving online, SMEs that can be more engaged because they save on travel time and expenditure, organisations that move fast when facing the direct need to digitalise and innovate. An opportunity and a pandemic do not fit in the same sentence but many projects shared their positive experiences during the roundtables.
We are sure that all these learnings are not lost when life returns back to normal. These online solutions and new approaches are here to stay. And surely, meeting four times with a diverse group of project representatives, in one week, would not have happened before the pandemic!
Thanks to:
The examples, best practices and tools in this article came directly from the North Sea Region project community. A special thanks to the projects that presented during the roundtables:
If you would like to read more about how projects cope during Covid-19:
Inno-Quarter: Helping start-ups brave the pandemic
I2I: Reframing loneliness during lockdown
Featured image: © 2020 – Dirk Wollaert
Top images from left to right:
SURFLOGH
Autodelen.net
#IWTS 2.0