Shane Woodford was enjoying a fulfilling life as a radio journalist in Canada when climate disasters hit the area where he lived. In the end, he and his family chose to relocate to Denmark. I had a talk with him about the twists of fate that led him to join the Interreg North Sea secretariat in Viborg.
Did you notice a step-change in our social media and video work in the past months? Shane Woodford is currently working with us, reinforcing our communication and infusing the Viborg office with his trademark energy and humour.
So how did he end up in the European Union, working in the world of Interreg? The story begins in Abbotsford where he grew up. Back then, it was a small rural place outside Vancouver, British Columbia in Western Canada. With its pacific coastline and mountain ranges, the province is a place of great wilderness and home to animals like grizzly bears, mountain lions, and bighorn sheep.
"There's so much outdoor beauty so people do a lot of hiking, camping, and canoeing. You can go sailing in the morning in Vancouver and then drive up to Whistler and go skiing two hours later," Shane says, adding: "It's this place of enormous natural beauty and it's also this place that struggles with homelessness, industrialisation, and endangered stocks of fish like salmon."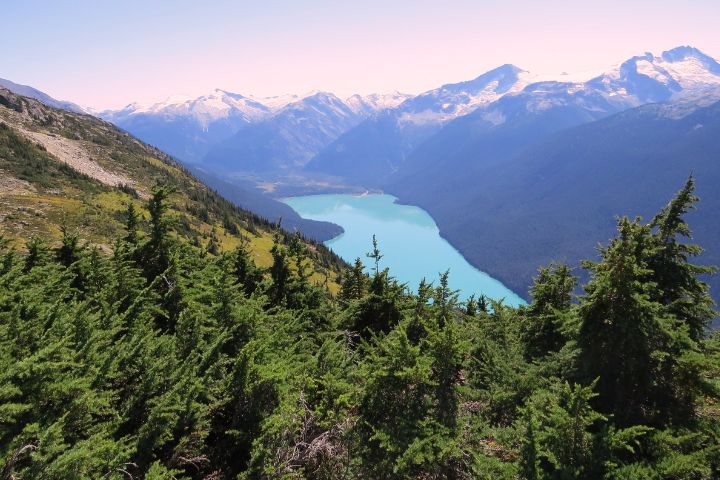 Recently, the so-called Whisky War between Denmark and Canada (over the tiny Hans Island) found a peaceful resolution after 44 years of very peaceful conflict. During the 'war', each country would claim the island by placing their flag and leaving a bottle of liquor for the enemy. Shane's reaction to the end of the disagreement was regret "because the conflict was such a great story!" I'm not surprised – he is a journalist to his fingertips. Curious to learn more about his background, I ask him how he first got into journalism.
"I would say my mom had a lot of influence. We would always have talks about current events and politics, and I would naturally read newspapers from an early age," recalls Shane. "But my path towards journalism was really life experience."
Lost for direction
You don't have to spend much time around Shane to discover that he is a born storyteller. However, it took him a while to discover this himself.
"After graduating from high school I took a bunch of different jobs. For over ten years I didn't really have a career. I did restaurant work, I worked on a chicken farm for a couple of years, and then I spent eight years working in shipping logistics at the Mission Hill Winery," he explains.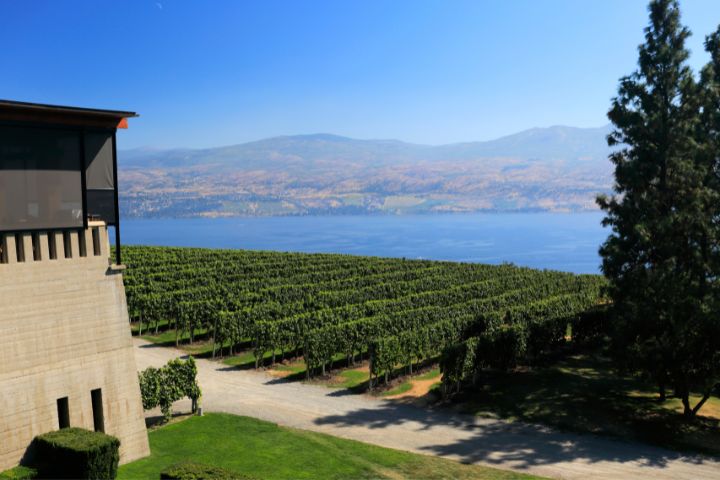 He enjoyed working there and being part of a pioneering business. It was set in the desert-like arid landscape of Okanagan, a rather unlikely place at the time to produce award-winning wines. But the winery started to do exactly that and developed into a quality brand. "When this unknown Canadian winery first won in a blind test the judges were so shocked that they demanded a second round – which they also won, of course!" recalls Shane, laughing.
"But after all this time, I had reached a point in life where I had worked a bunch of different jobs but didn't have a career so to speak. My life felt like sand going through an hourglass. Life was kind of moving ahead and I wasn't."
One of the upsides of working at the winery, however, was a good salary which enabled him to travel for a month each year. And one of his trips turned out to be a turning point.
It was like sand going through an hour glass. Life was kind of moving ahead and I wasn't.

A European love affair
Shane went to Europe many times because he finds the continent truly fascinating. "In Canada, everything is new. In Europe, there's so much history that you can literally see and touch. Having travelled a lot and lived in Denmark for a while, I'm still wowed by it. It is so tangible, such as stone age burial mounds."
In 2003, he met his future wife Catherine in Italy during the last days of his annual trip to Europe. "She's American-Danish and has lived in both countries. At the end of the trip, she went to Viborg to stay with her aunt and uncle," recalls Shane.
They emailed and she invited him to Denmark. Six months later they met again, this time in Copenhagen, and went from there to visit her friendly relatives in Viborg.
Shane and Catherine married in 2010 and lived together in Canada from 2011. Their son Henrik was born in 2014.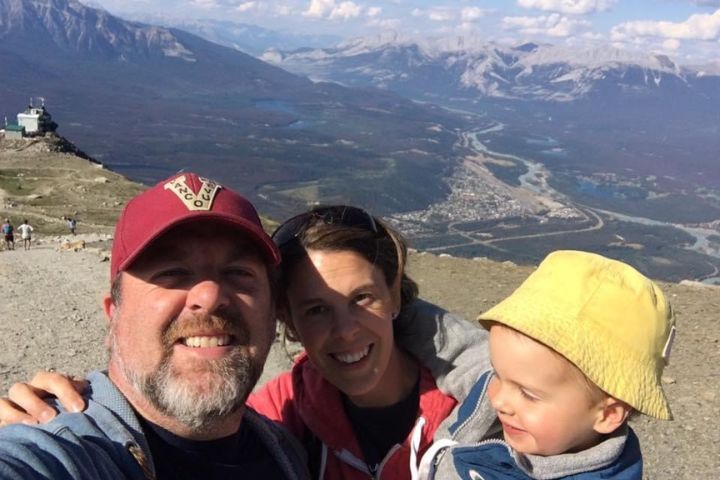 Going into journalism
"When we first started dating, I remember telling Catherine about feeling a bit lost. Then I took a career aptitude test and scored really high on journalism."
Taking the advice, he applied to join a popular journalism programme. He passed and soon discovered that this was exactly what he was cut out for.
After graduating, Shane started his career in the CBC broadcasting company, moving on to the news radio station CHNL in Kamloops and then to CKNW in Vancouver where he built a reputation covering British Columbia politics. "I managed and grew CHNL's Twitter account and at CKNW I got some experience with talk shows by filling in as host," he explains.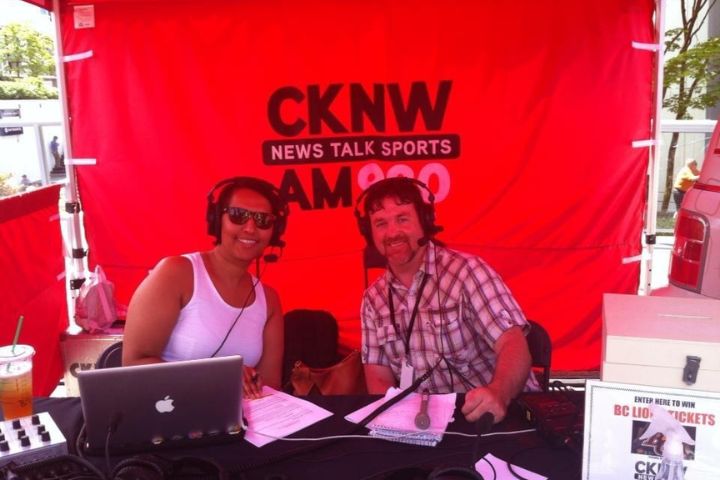 Shane discovered firsthand that some stories can literally change things. One of his fondest memories is from 2014, when he covered a story that made a difference for the local community.
"The Canadian coastguard did lifesaving work in the area and the government was going to shut it down. I broke that live on CKNW and the government tried to minimise the story."
Amid the controversy, a vessel was found leaking thousands of tonnes of fuel oil into the bay. "If the coastguard had still been in place they could have been there in minutes. It started leaking in the morning and it took the authorities till the next morning to respond, by which time the spill had gotten exponentially worse. We broke the story which became politically a hot potato. The next government led by Justin Trudeau won big in British Columbia based in no small part on the promise to reopen the coastguard station." They did, and it remains in place to this day.
In 2016, he was headhunted for a position as news director at the Radio NL in Kamloops where he created two popular talk shows – The Woodford Show and Inside #BCpoli, quizzing top politicians.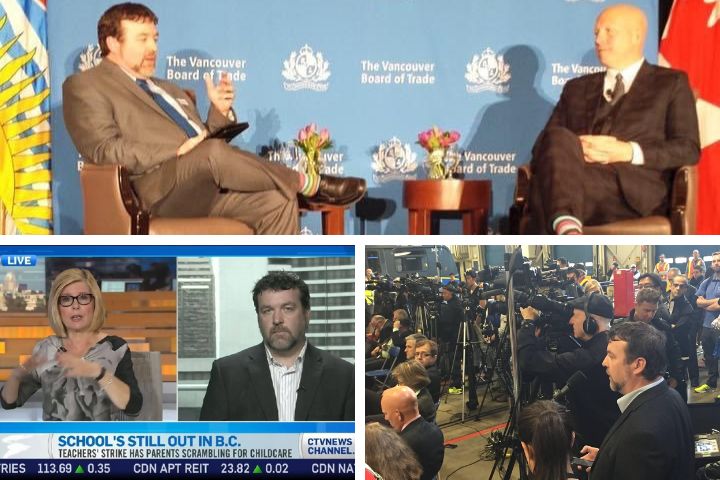 Disrupted by climate change
Shane spent ten years in Canadian TV and radio. And having settled in beautiful Kamloops with his wife and son, he found himself living a great life with a fulfilling career.
But then global warming struck the area really hard for the first time. "In the last handful of years, British Columbia has evolved into a centre for climate change disasters. We had historic floods where small cities had to evacuate, which never happened before. We've gone from amazingly epic historical floods to amazingly awful historical wildfires. Every summer, thousands and thousands of hectares of forest go up in flames," he explains.
"People have to evacuate and smoke sits in the air for weeks and months at a time. At the time when we chose to move to Denmark it was the worst wildfire season we had ever seen. We had a fantastic view down into a valley with a great mountain on the other side, but for a month we could barely see the house across the street."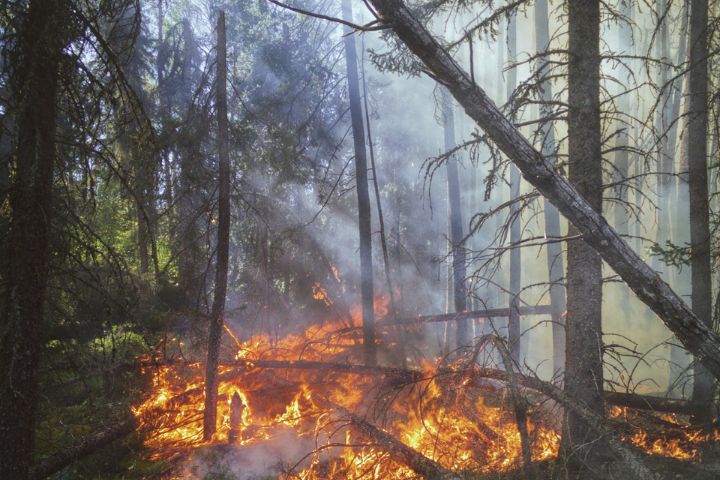 "If we were getting our son Henrik to his day care, we would plan it out and open the door real quick before running to the car. The day care would have air filtration systems and he would stay inside the whole day. It was oppressive because you lived in this very small, grey bubble and it was hot in the middle of the summer. You felt you couldn't breathe, and your personal space was very constrained. All you could see was grey around you," he recalls.
Carving out a new life in Denmark
The constant threat of climate disaster took its toll, and the couple also wanted a better work-life balance. So, when Catherine was offered a job in Denmark they felt ready to go. And although they miss their Canadian life, they have had no reason to regret the decision.
"Since we left it seems like every time I turn around, British Columbia is struggling with some new extension of the climate change fight. An entire town burned down, and they had the hottest ever temperature of 49 degrees in the entire country. People live with evacuation bags ready. Situations can go from a little fire to thousands of hectares being up in flames in an hour or two. The police will come knocking on your door, telling you to just get in your car and go," says Shane.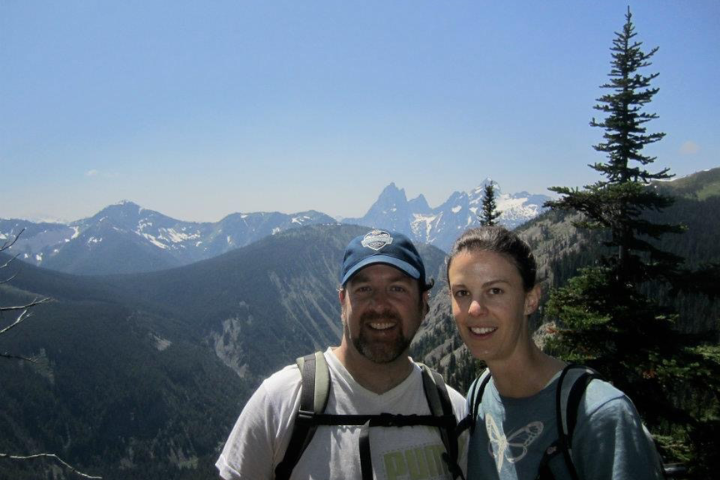 However, no sooner had the family arrived in Denmark than the Covid-19 pandemic erupted. Shane worked from home, reporting through his journalism contacts in Canada. "It became clear that Covid swept through Europe and hit North America three weeks later, following the same pattern. So, I was able to report on the things that Canadians would see happening further down the road. I gave a lot of radio and TV interviews," he explains.
He also discovered a need for information among Canadians in Denmark. "I launched a Covid newsletter focused on Denmark, however people also wanted to know what's going on in Canada, so it became an evolving thing. I felt I had a purpose." Shane still runs the newsletter next to his work at the Joint Secretariat. He has also built a personal Twitter account with nearly 14,000 followers.
A ball of energy and grit
As the pandemic subsided, Shane went looking for a job in Denmark and noticed an opening at the Joint Secretariat in Viborg.
"This particular job stood out from the massive variety of work available. It was fascinating. I'm constantly amazed at the interesting work being done," he says.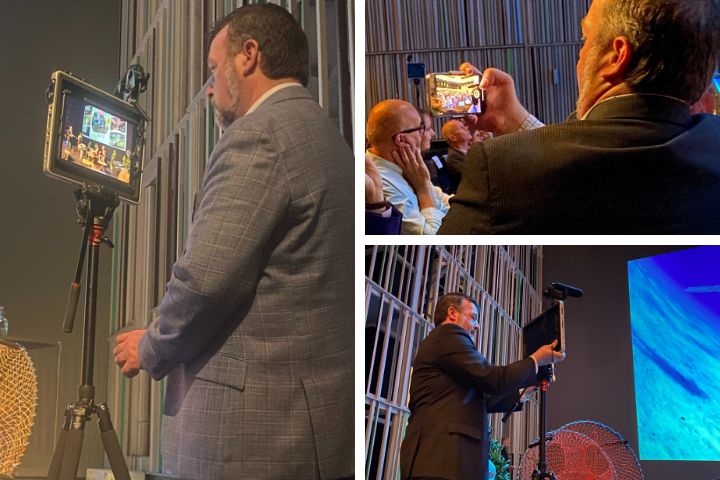 "One reason I went into journalism is that I get bored really easily. With journalism, I'm constantly challenged – it's sink or swim to figure it out. Every day is new. The North Sea Region Programme has so many interesting projects and they're interesting at so many levels. Each project has multiple stories within it. I find it intriguing to go into this new world."
Shane has definitely made his mark at the secretariat. Since February, he has put out a constant stream of super engaging posts on our social media channels, contributed his expertise to the North Sea Conference, and put in a tonne of photo and video work.
And last but not least, we have quickly become very fond of Shane's unstoppable spirit and boundless arsenal of jokes and witty remarks. Who else would take over his colleague's desk just for the fun of it, planting a cola bottle on it like a flag? Or greet you in the morning saying "wakey wakey eggs and bakey"?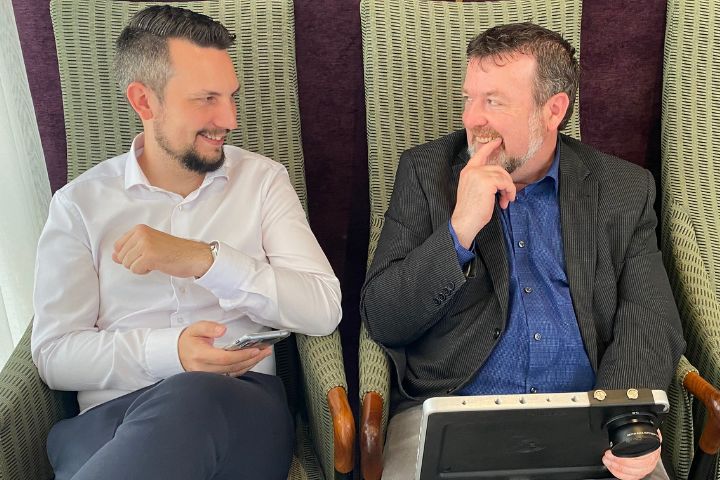 Shane with his colleague Christoffer Villsen.

About the author
Sofie Forfang is a communications advisor at the Joint Secretariat.